House Hunting with Zillow: How and Why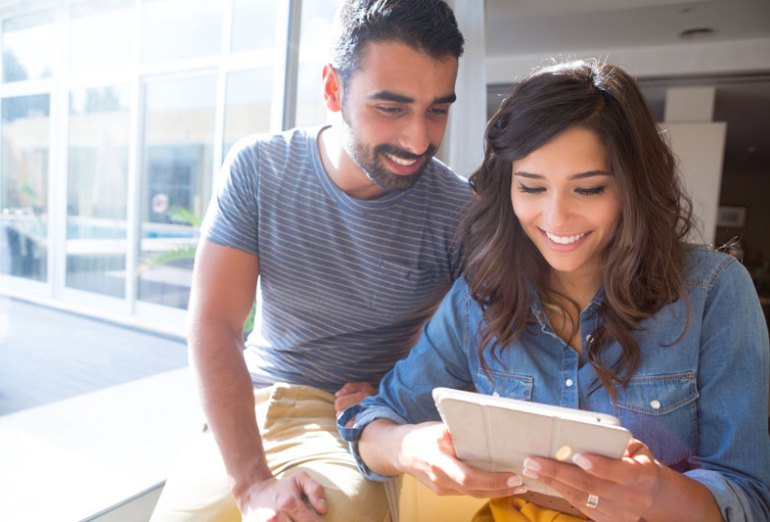 HOW TO DO HOUSE HUNTING WITH ZILLOW AND WHY
Back in the olden days, before the Internet, house hunting involved several moving parts. It took many phone calls to find the right Realtor to guide you in your home search, and much travelling around to look at all of the available houses in your desired location. It was time consuming! Plus, when you were ready to prequalify* or begin your mortgage loan process, you had to rely on office hours that were convenient to your lender, not hours that were convenient to you.
Times have certainly changed! According to the National Association of Realtors (NAR), 90% of home buyers now use the Internet to house hunt. Websites and applications like Zillow allow you to search for a home with your chosen parameters without leaving the comfort of your home or preferred browsing location. You can shop homes for sale while drinking coffee at your favorite spot. By choosing filters on the website or app, you can narrow your house hunting to include properties that meet your individualized qualifications.
Zillow Lets You Chose a House By:
Price range
Neighborhood
Size/square footage
Number of bedrooms and/or bathrooms
School zones
Pool
Home style: townhouse, single family, condo, etc.
Foreclosure
New construction
And more!
With the Zillow app, you can even set up house hunting notifications for new listings, price drops and open houses in your preferred target areas. Save your home searches for future reference, and share your homes you are interested in with a trusted friend. What could make house hunting easier? Zillow will learn what you are seeking and will be able to make suggestions and help you find the right new home for you. Plus, as technological innovations continue to simplify the home buying process, 3D tours will only be a click away!
Zillow Helps You Find Premier Agents
Even if you find your dream home online, it is still critical to utilize the expertise of a Realtor to guide you through your house hunting, especially when it comes to the in person viewings, negotiations and regulations. Zillow can also help you find the best real estate professional to suit your needs—whether they specialize in relocation, foreclosures, first time buyers, etc. Zillow's Premier Agents have the expertise to turn your website house hunting into a reality. You can find these trusted professionals in the real estate directory, or popping up while you are browsing homes in your home searches. The profiles will give you all the information you need to view and compare their skills and qualifications. Once you have found your Realtor, you can easily share houses from Zillow that you would like to see in person, and your Realtor can share houses with you he/she thinks you should consider.
Plus, your Premier Agent will be able to recommend professionals to complete the steps needed to put you in your dream home. You'll be able to connect you with inspection specialists, handymen, and anyone else that can ease your way to home ownership. This includes finding just the right lender for financing your new home.
Jeff Berman, The Mortgage Go To Guy, has close relationships with carefully selected Realtor Premier Agents. Jeff can help you determine your price range, guide you through prequalification* and/or preapproval, and walk you through the mortgage application process to get you the financing that meets all of your needs! And, unlike the olden days, Jeff is available to answer your mortgage questions when it's convenient for you, cause let's be real, who usually finds their dream home during banking hours?
Whether you search for your new home with applications like Zillow, or stick with the traditional way, it is essential to have a Realtor guiding you through the process. It is also essential to have a qualified, experienced mortgage lender to help you meet your financial goals, not only for the best Plano home loans options, but all of DFW. With over 25 years in the mortgage industry, you can trust Jeff Berman to help you find a mortgage, whether you live in or outside of the DFW area. To contact Jeff Berman, "The Mortgage Go To Guy" with Elite Financing Group, call 214-989-7700, or complete the form below.
Jeff Berman "The Mortgage Go To Guy" mortgage broker at Elite Financing Group mortgage company serves the north Dallas suburban area including Dallas, North Dallas, Plano, Frisco, Allen, McKinney, Carrollton, Addison, Richardson, Murphy, Wylie, Prosper, Lovejoy and all of DFW. With over 25 years of experience, Jeff Berman has managed or originated 20,000+ loans in his career and is uniquely qualified to help you too.
*A prequalification is not an approval of credit, and does not signify that underwriting requirements have been met.
Please follow and like Jeff:
find a mortgage find your dream home online first time home buyers Frisco mortgage lender home buying mortgage lender mortgage loan zillow Zillow house hunting